Crybaby and Noise Pop Present:
Bodysync (Giraffage & Ryan Hemsworth) plus Chrissy and Ray Reck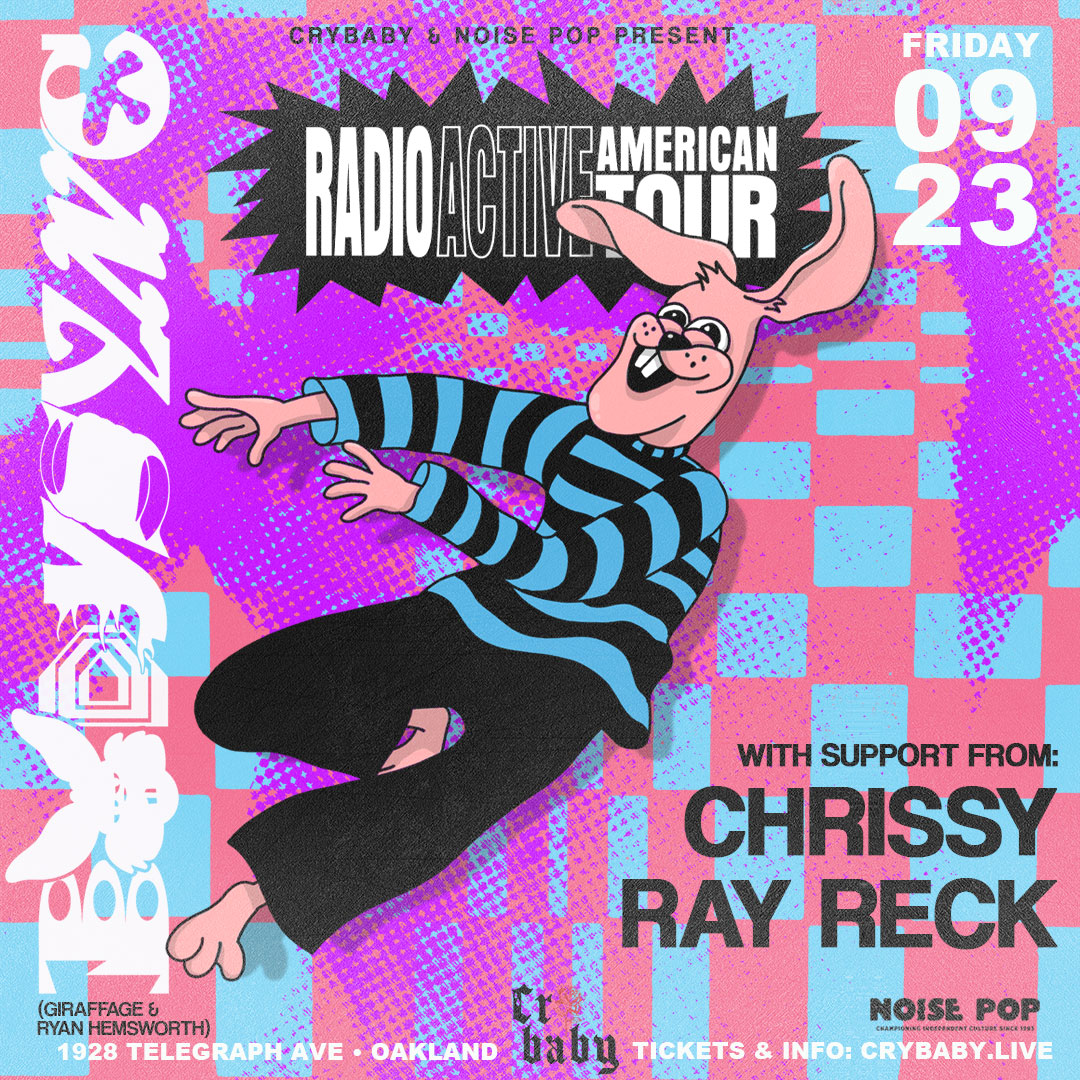 Additional Info
Bodysync is the new collaboration between electronic producers Ryan Hemsworth & Giraffage,exploring bright, carefree dance music in all varieties, steeped in referential nods to the classics but firmly focused on pushing forward the sounds of today. Over the last 10 years, the two producers have released acclaimed albums and EPs with labels such as Fool's Gold, Last Gang and Counter Records, as well as self-releasing independently. They've worked with the likes of Joji, Mitski, E-40, Doss, alongside official remixes for Carly Rae Jepsen, Porter Robinson, ODESZA and Lana Del Ray. The duo have amassed over 200M streams across all platforms combined, and have toured North America together, as well as individually touring Europe, Asia and Australia.
Between them, Ryan Hemsworth and Giraffage have tackled virtually every style of electronic music there is, frequently colouring outside genre lines and fusing the iringenious hybrids with shimmery pop and R&B. Radio Active, their debut album as the duo Bodysync, represents something new for both of them: a deep dive into the classic sounds of '90s house music. "Good Morning" is a sun-kissed endorphin rush of breakbeats and organ bass; the disco house of "Jet Lag" bears passport stamps from a stopover in French-touch territory. But what makes this so clearly a Hemsworth and Giraffage project is that it's never expressly retro. Even when they're playing with the time-tested rave stabs of a tune like "Our World," they sprinkle their golden-ageflashbacks with a healthy pinch of future-pop fairy dust,conjuring an ultra-vivid vision of dance music's mostbeloved sounds—and, moreover, one that exists outside of linear time. Like déjà vu, their music seems at once warmly familiarand like a glimpse into the unknown.