Toasted Life Presents:
Freedomful Fest: Juneteenth Weekend Celebration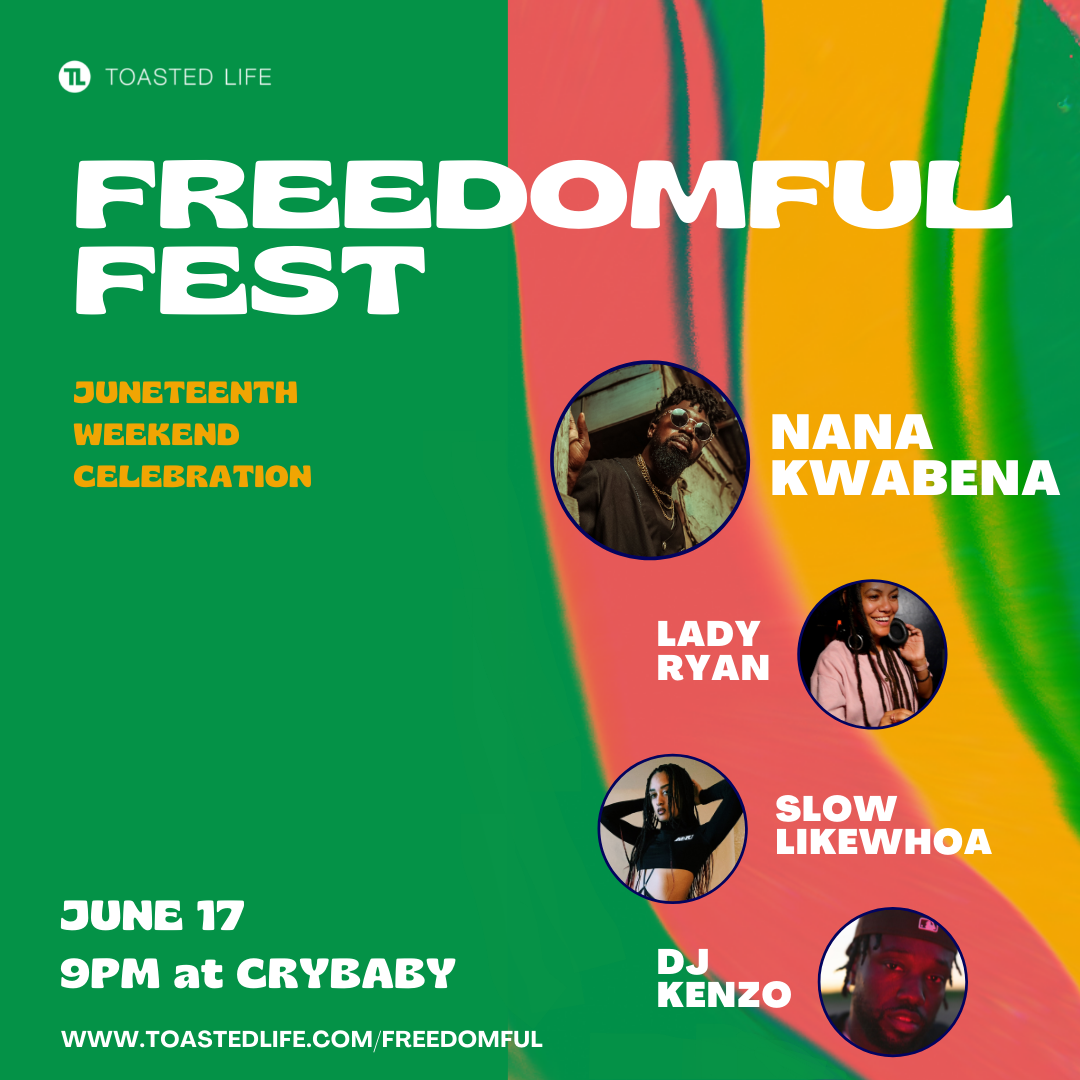 Additional Info
DJ LINEUP
NANA KWABENA : Ghanaian-American, Philly-bred global DJ, Producer will be one of the DJs for this event. NANA has produced for artists including Kanye West, John Legend, and Rick Ross. He is also responsible for producing "Classic Man" by Jidenna and "Yoga" by Janelle Monae.
LADY RYAN: LadyRyan is a Bay area favorite —inspiring a sense of safety, joy, and belonging as a spiritual conductor and dedicated professional. Her music and voice have been riding the wave of partygoers from coast to coast. She is currently resident DJ for the Golden State Warriors, and is a radio host and DJ Wednesday nights on 91.7 KALW.
KENZO: Kenivah Bockari, better known as DJ KenZo grew up with the vibrance of African celebration all around him, and his style reflects his background and is coupled with the infectious "Kenergy" when engaging the crowd. He got his first big break spinning for Nef the Pharaoh, and since then he has spun all over Northern California and shared the stage with Raekwon, Snoop Dogg, and Too Short.
SLOWLIKEWHOA: A Conceptual Artist and DJ. Through Sound Installations, Song Selection/Arrangement and Creative Direction, influenced by Hip Hop and Funk, she has created a genre bending sound merging; Afro-Beat, Dancehall, Baile Funk, Psychedelic, Soul, and Electronic.
ABOUT TOASTED LIFE
Toasted Life is a community-based experience platform empowering connections for ambitious dreamers of color. We specialize in designing 360 lifestyle experiences and engagements that center the needs of multicultural audiences through events, activations and cultural programming.